Sara and Joakim tied the knot regardless of change of plans.
Love refuses to pause! Because of the pandemic Sara and Joachim had to change their plans like so many other. But their Micro wedding became such an intimate and genuine celebration of their love.
We have all seen the hashtag #lovewontwait on instagram.
On Saturday, this became more than just a sentence, it became the reality for Sara and Joakim who planned a Micro wedding and said yes to one other in the Oscar Church in Stockholm.
We met up at Hasselbacken for a first look, and whilst in the car, on my way, I contacted one of the bridesmaids to discuss alternatives to places. Luckily, the bridesmaid was the energetic and gave me an overall picture of the place. When I arrived, I could easily choose a place clean it up to be perfect for the First look.
Then, the time came for their First look.
I'll say it again, First look is magical. Look here.
Absolutely jaw dropping beautiful, who can resist this room, this terrace and how this rainy day created incomparable light for photography. And this couple, my god such a dream for any photographer. I simply cannot get enough of these pictures.
I advise couples to do First look. It is such a special moment when the couple is given a quiet moment together before the ceremony. It is often highly appreciated as the bride often has a stressful morning getting ready for some hours . It´s such a culmination when her soon husband gets to see her when she's at her most beautiful self. It´s an amazing part of a wedding day to look back at and remember.
After the first look, we went straight into the portrait session. We left the hotel and went to Skansen, the environments there is fantastic, and the variety for photos is large.
ADVICE FOR RAINY WEDDING DAYS
Bring a pair of Wellingtons in some cool color. It is mainly because you want your feet to stay dry if you are going for outdoor photography. But it also gives a nice contradiction to the photos.
Buy a nice umbrella, without patterns, logos or brands on it. The transparent ones are the best for wedding photos.
Make sure you add extra time in your schedule for portraits. Simply because it's not as smooth as in sunshine. It requires some adaptation and you may need more places for the variety. The spontaneous photos are harder to capture.
If you don't want Wellingtons, consider bringing another pair of shoes for outdoor photography. Those you don´t mind getting wet or dirty.
Even if you do not get golden hour photos during the late afternoon, I still recommend going out for photos. You are so much more relaxed now that the ceremony is over and the hours of fun and games is left of your day. And it does not matter as much if the dress gets wet or a little dirty. I absolutely LOVE the phrase "make sure you wear the f * ck out of that dress".
The Oscar Church on Narvavägen in Stockholm was the place for Sara and Joakim's wedding, and it is a magnificent church. The ceremony was stunning and so personal. There was two musicians playing and one of them was a saxophonist. So good, the hair on my arm stood straight up. You don't have to do less of a celebration because of less people. A Micro wedding is the perfect way of celebrating your love with family and friends.
The exit music left the feeling of being on a dance floor and the bride and groom danced their way out of the church. Furthermore, we went outside to give the bride and groom our congratulations.
After the ceremony and celebrations, the guests walked across the street to the Church meeting room for mingle, games, cake, and dancing.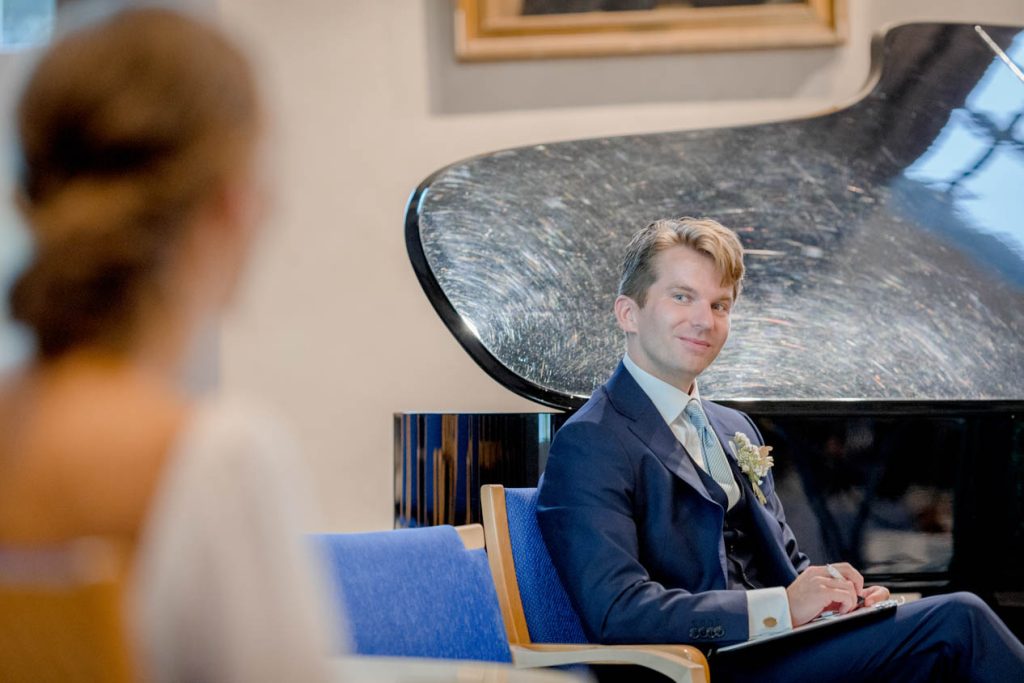 Hope you enjoyed this sneak peek. Any questions? Don't hesitate to send me an email  hello@evelynwallin.se
You want more sessions to get inspired? Check out session in Fårö, Gotland
Want to work together? Fill out my form here
Let's talk soon! Hugs! /Evelyn