Let's be real! Coming up with the best full inspirational timelines for your elopement can be difficult. So I figured I'd happily help out. You all know by now that I LOVE Gotland. There's just so much to do, see and experience there. and to ost of the world, it's quite a hidden gem still. And I hope I can help you guys to see the uniqueness and jaw dropping beauty of this magical place.
1 inspirational timeline
This first timeline includes a dip in the ocean, a homemade brunch on the beautiful northern island of Fårö, and lots more. So lets get started.
Finding somewhere to sleep over this two day elopement is not hard, but be ware you need to be out and book your day early. This is a popular destination during summertime. Hotels in Visby can be found but if you want something different there's glamping and a really great restaurant right on the beach on Tofta (surflogiet), or a cabin up on Fårö at Sudersand, which has been nominated among the best natural sandy beach in the world.
One thing first, I suggest you rent a cabin in Fårö.
Starting your day you could put together your favourite brunch and take your picnic basket out to the stunning Norsta auren, you will have enough room to it not being crowded, but, I need to warn you… it's quite hidden so it won't be easy to get there… but it is worth it. If you want a smoother adventure for your intimate brunch picnic, I suggest Gamle hamn, and to sit by the lime stone The dog (this is also the best spot for the sunset if you want that romantic feel. You can see why eh?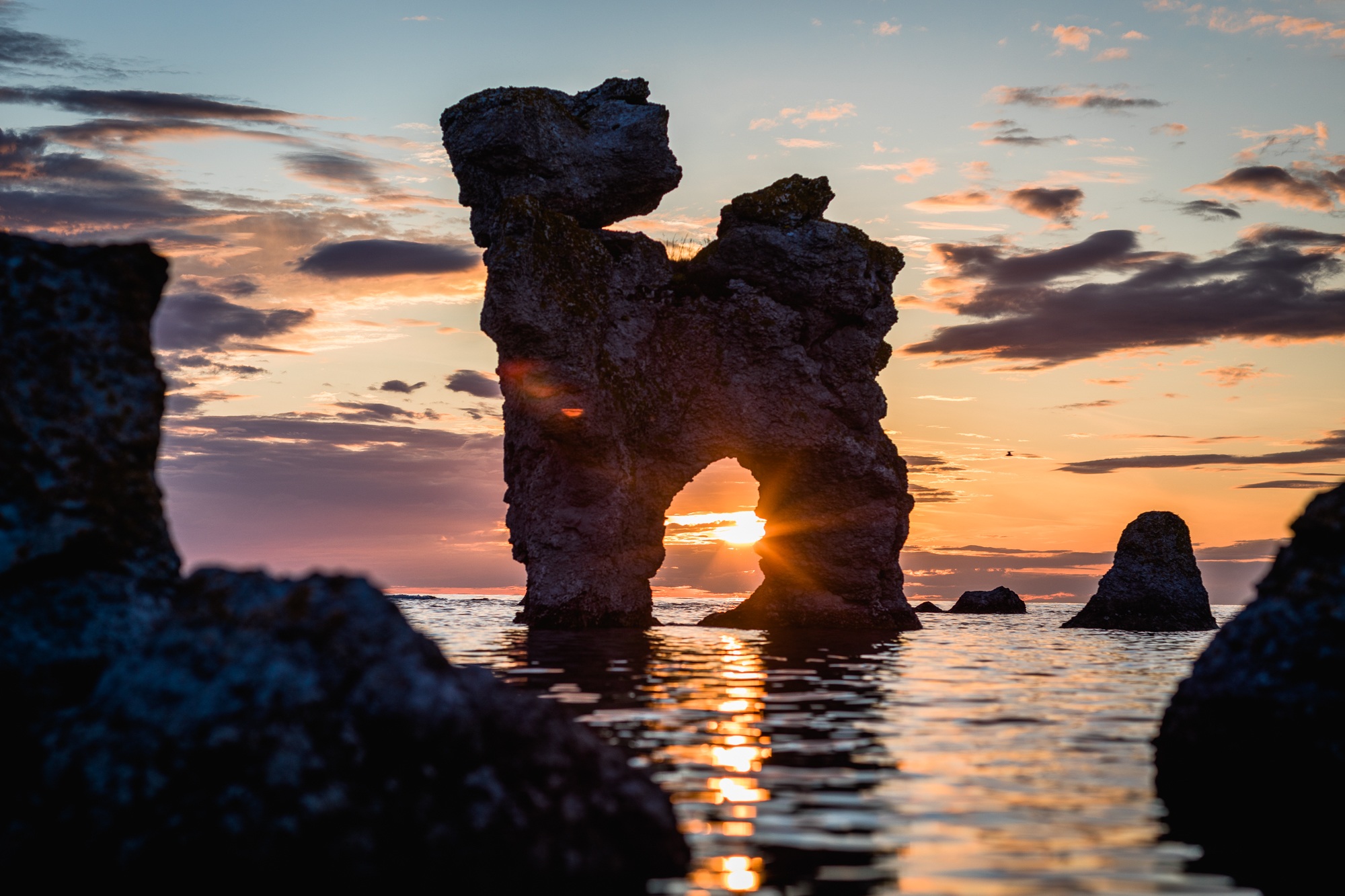 Continuing your day, take the ferry back to Gotland and drive through the rocky parts of northern Gotland. The scenery is epic and it's so much fun. Oh and don't forget the obligatory swim in the ocean.
Heading back to Visby, you can find so many things to do. As Visby was a Hansa city you can find so many historical guides and the museum is really good. If you didn't have your ceremony p in the north on the beach or along the stone coast, I suggest any of the stunning ruins in Visby. You can choose among 12 ruins but the lights and feel is hard to beat. Here are three of my favourite:
For more info on how to book your ceremoni in the ruins, check out GoGotland
Ready for dinner are you? As a part of inspirational timelines I suggest that if you're staying at Surflogiet at Tofta, then I suggest having your dinner there would be magical on the beach and sunset. And enjoy your last drinks late on the sand bathing and stargazing (promise you will want to have those photos to as a part of your day).
Waking up the next morning, I'm ready to take a few photos of you two when you cuddle up with blankets and give each other your morning gifts. Maybe you prefer saying your vows now to one another, during the quiet early morning hours. This morning strolling round in Visby harbour is perfect for walking the beach walk, try a few different ice cream sorts in Europes largest sortiment of ice-cream. Enjoy the scent of roses, as Visby is also known as the city of roses. Let's have the last session up at Högklint, to get the dramatic scenery along the coastline.
I wanted to show you one of my many inspirational timelines and to make it even easier for you, I have made a downloadable timeline with estimated time of this post.
Want to see more of Gotland? brilliant, read about this stunning proposal on Norsta Auren here
Talk more? Yes book a clarity videocall here
XoX Evelyn