We were surprised to see the trees till full of leaves in various colors. To be honest autumn came early this year and over night it suddenly became autumn. Nevertheless I joined a creative team to get my own longing for fresh mountain air, mountaintops and water falls fulfilled. And what a stunning weekend we got.
A typical autumn day for a mountain waterfall elopement in Vemdalen, Sweden.
We started early and left for the waterfall at 10am, and the bride decided to put on her dress as we arrived at the waterfall. It was easy to park and going down all the stairs to the lowest part of the fall took some effort. No high heels here, but loads of sun. Tak a look at this stunning mountain waterfall elopement.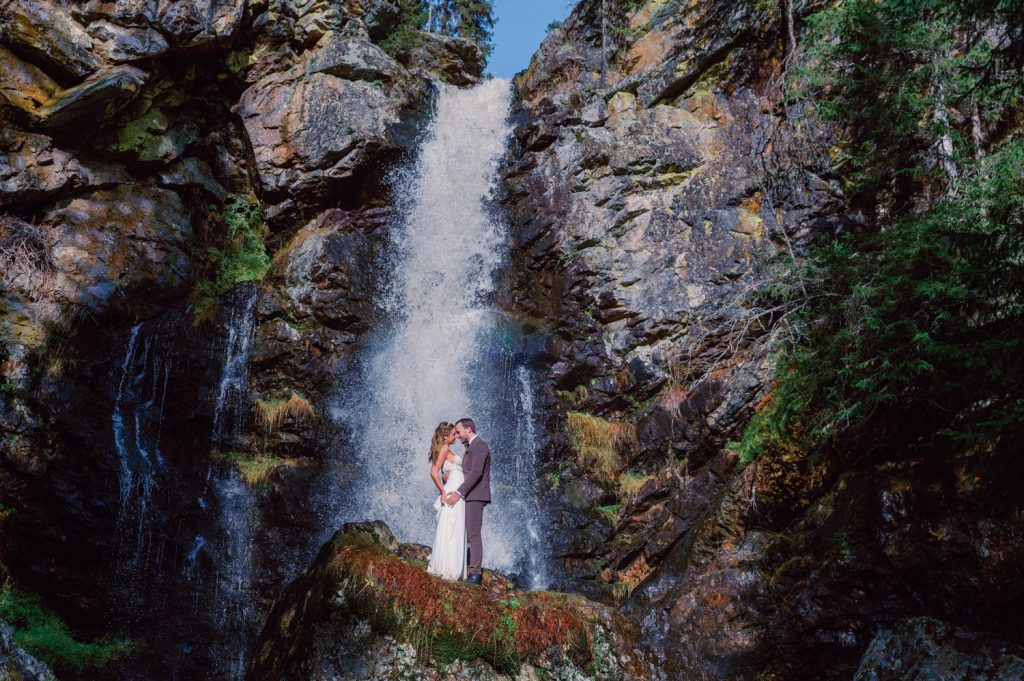 How did we continue this mountain waterfall elopement day?
After the waterfall session we went back to the cabin and had lunch. You can easily book room at Storhogna where they have everything you need, but you can also rent cabins in the area.
After a few hours of rest we wanted to go up to the mountain, the mist was getting thicker and that makes for stunning autumn dramatic photos.
Have a look!
Dress from: Eleganten
Flowers from: Norrmälarstrands blommor
Grooms details: DAKO
Stationary: Anna Göran design
Ringbox: En liten ask
Enjoy this post? Feel free to share and comment!
XoX Evelyn