How do you pull off a stunning winter elopement in Vadstena in December?
in only two weeks?! That is a good question isn't it?
However Maria & John pulled it off! And it became one of my most favourite sessions ever!
So how did it start?
When Maria was offered a job position abroad it became a necessity for them to get married in order to move abroad. So how do you start planning an elopement fast? First, they contacted me. Thankfully they knew me and my work and had been following my journey for some time. They picked Vadstena as John had been living there for 16 years and his mother has her own jewellery business there and they wanted to be close to her.
Of course they have a history with the city as a couple as well, and it is pretty ad scenic. It was a great fit. They wanted to use the cityhall that is the oldest one still working in Sweden and therefor it is full of history.
Early on they asked me for advise to make their winter elopement in Vadstena even more memorable. I can tell you, they were given quite the list o things to add to their day. They needed time o process and decide and they did.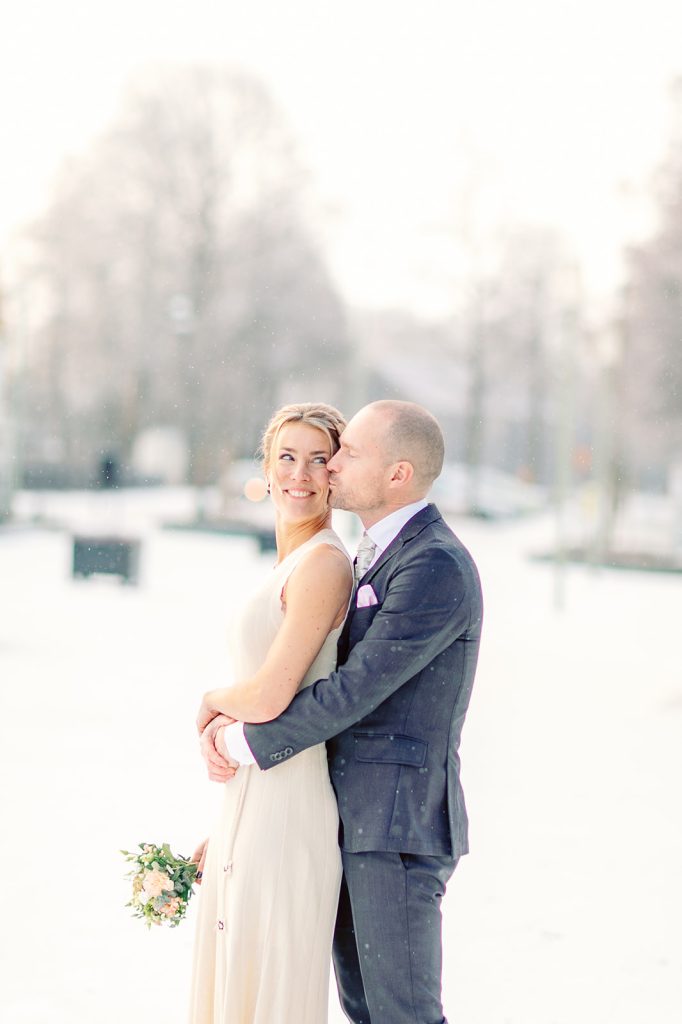 How to add the couples history or/and future to their elopement photos?
In Maria and johns story it was a matter of moving abroad. The adventure of another country and travelling. I always do research, and quite a lot of it beforehand. So I knew Vadstena had an outdoor museum park with old trains. So i asked them if it could be a part of their elopement photos, becoming the symbol of travel adventure, and the future in another country. It resonated well with them. How stunning aren't these photos??
They also had a vision of going out to the pier where they go sometimes, and the view looking back to the Vadstena skyline was an important part. Look look at them. What magic we created.
John had some memories of the pump located by the water so walking back to the city we stopped by the pump and he showed us what he used to do as a kid with his friends. Gotta love those memories.
One of the advise they collected from my list of ideas to personalise their day, was to have friends and family that weren't there write them a personal note or send videos for them to enjoy. After some time in the snow and cold we decided to have a cup of coffee before the ceremony and they could watch the videos together. so we found a nice cafe with a gorgeous table and sofa and I let them enjoy!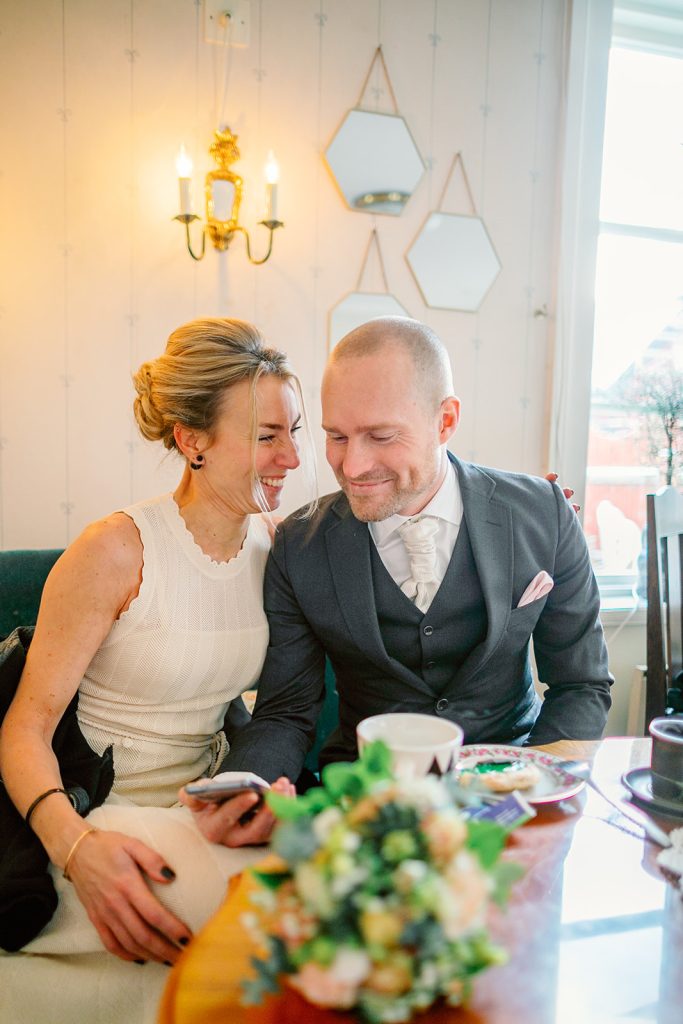 Winter elopement in Vadstena – the ceremony!
Meeting up with a few friends and the closest of family it became an intimate ceremony, with laughter and tears of joy!
Do you want more inspiration, have a look at my instagram account
After the ceremony they popped some bottles of champagne and celebrated before they went off to a late lunch.
This winter elopement in Vadstena shows every couple that you do NOT have to plan very far ahead in time, you just need to have an open mind, spontaneous ideas, and let the right photographer (lol aka ME) be creative.
Have you enjoyed this post? You can shout about it in the comments below!
Have an awesome week ahead!
XoX Evelyn