Starting with things to do in NYC that's just a edgy MUST -DO!
Where do I even start? The things to do in NYC could just blow this blog post straight off, and turn out to be a book. Understand me correctly, not only do I know the typical things that you want to check off your bucket list, but there's just SO much more. So I'll give you my absolute best things to do in the city that never sleeps!
1.Rent an AirBnb to stay at, bring family and friends.
I know there's so many epic hotels in NYC, but if you're throwing a NYC elopement with the closest of friends this is an even better option. TRUST me when I say that these everyday moments before (and maybe after) your elopement wedding day, will make sweet memories that lead up to your day. We rented a three floor flat in Brooklyn, perfect for the elopement wedding. It's really a precious way to stay close and enjoy everyday life with your tribe.
2. Of course you need to try out your drinks for your party, right?!
Why not end your elopement day in a hidden bar that you book exclusively for your tribe ? Even if it's an early hour or two before the bar opens I suggest this any day of the week! My favourite hidden bar is Attaboy on Eldridge str. 2017 they were ranked as nr 8 in the worlds 50 best bars of the world. Say no more… After you've tried out the drinks for your day, make sure you continue too The back room, a real prohibition bar hidden, but if you do find it – remember that Al Capone visited during the roaring 20's… bring your 20's dress and dance to live jazz on Mondays. You'll love it.
3. Why not make Breakfast at Tiffany's as a part of your day?
Things to do in NYC includes one all-time favourite iconic NYC movie starting Audrey Hepburn, and it never getts old, does it? Who can forget the feeling Holly (Audrey Hepburn) has about Tiffany's, and I totally agree. There's no place in the world like Tiffany's. Strolling in there, taking the elevator up to enjoy coffee and champagne (and just maybe get a little something to wifey – hint, hint). It's def an experience over the ordinary.
4. Choose a different venue for your elopement wedding
There's nothing wrong in having a church ceremony, and if you're into that, then you should do just that. 100%!
But if that's nothing that you've dreamt of or it just doesn't get you going, then you should consider doing something else. Wagner's cove in Central park is a beautiful spot, on a boat overlooking manhattan skyline, in the helicopter above NYC or why not on a rooftop! My favourite venue is Ink 48 and The Press lounge on 11th avenue. You could either have the Hudson as a backdrop or the manhattan skyline. You choose.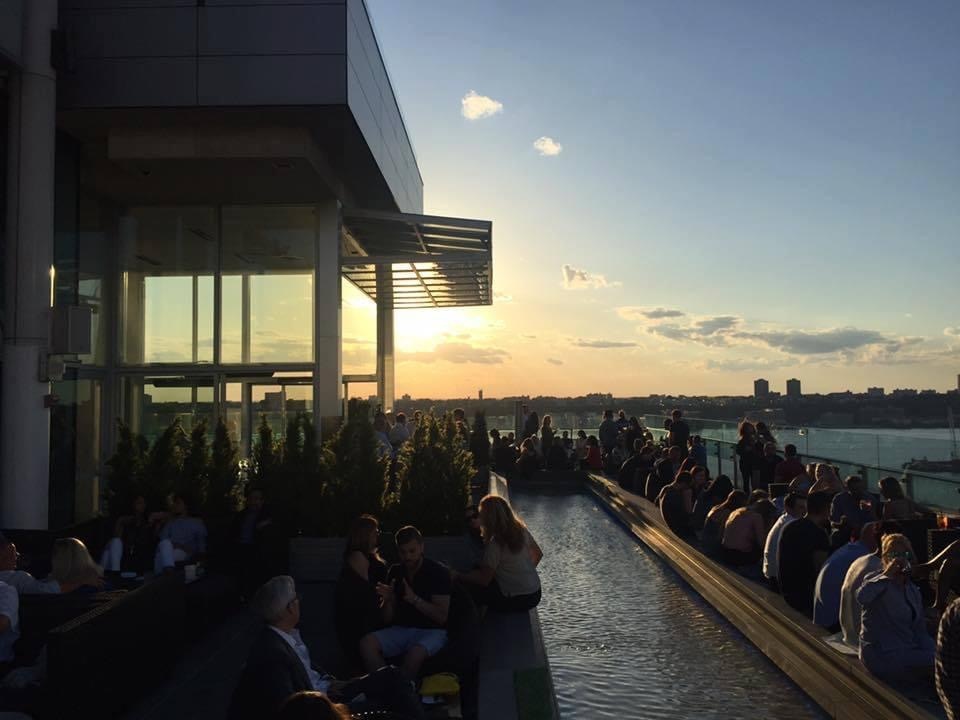 5. And maybe the most memorable of all the things to do in NYC on your elopement wedding day (night)
Tell your photographer (aka ME) that you want sunrise portraits over Brooklyn Bridge. Don't mind if it is sh***y early, that's good! Then there will be less people there. Trust me, it's worth every penny! The photos that comes out, are beyond magical.
You know that I have a package for NYC right? Send me an inquiry and I'll tell you more OR book a elopement clarity call and lets video chat straight ahead. You can book in the schedule straight away on the website.
…and these advises has nothing to do with skiing in central park, or visiting Top Of the rock, or visiting Grand central for oysters. Visit a jazz club, or enjoy the skyline from a boat.
There's so much more to do, like Brooklyn has a brilliant area for those of us that loves vintage clothing. Or the Sketch project (also in Brooklyn) is awesome. I have one located in their library. Enjoy the gospel in Harlem, and try their cuisine. Man SO much more I could tell you. But hey, let's start here….
Let me know if you enjoyed this blogpost.
Make sure to follow me on my instagram
Talk soon!
Evelyn XoX